Sarasota Essentials Learn About The Places Sarasota Locals Cant Live Without
Food and Drink Essentials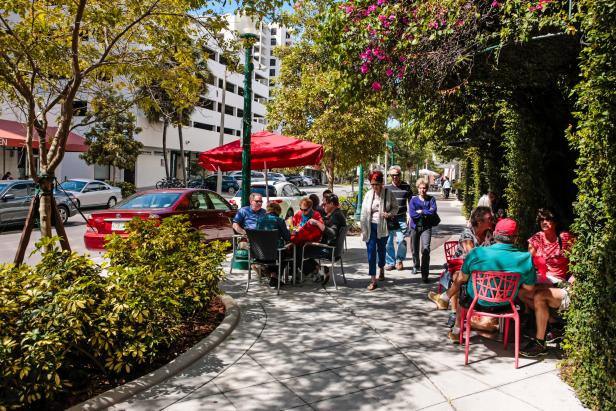 WHERE TO BUY GROCERIES
Morton's Gourmet Market
1924 S. Osprey Ave.
941-955-9856
Morton's Gourmet Market and the city of Sarasota have grown up together in the past 55 years. From its beginnings as a small independent grocer in a newly awakened seaside town, Morton's has evolved into the city's signature market. Shopping at Morton's is whatever you want it to be: local produce and seafood, or artisan cheeses and fine wines from around the world. Locals know it as the go-to place for hard to find ingredients as well as a great place to pick up a ready-to-go picnic for the beach.
WHERE TO GET A DRINK
Sharky's on the Pier
1600 Harbor Drive S., Venice
941-488-1456
You can't get more Florida than this. There's plenty of outdoor seating, as well as a thatch-roofed bar mixing up specialty drinks like Sharky's Pier Punch, Bait Bucket Margarita and Mango Bango. But everyone knows drinking on an empty stomach can be dangerous, so try some conch fritters or a grouper wrap. To work off the food and drink, take a stroll down the pier jutting 700 feet into the Gulf of Mexico.
WHERE TO GET A LATE NIGHT BITE
Mattison's City Grille
1 N. Lemon Ave.
941-330-0440
It's easy to feel like you belong here, where an urban vibe meets Sarasota's indigenous salt air. In the heart of downtown, Mattison's City Grille keeps things moving with live music and a menu that can serve up anything from tapas to dessert well into the night. Brick-oven pizzas have cemented many a friendship, while romances have been kindled, stoked and even set ablaze over creme brulee and cappuccinos.
WHERE TO GET A LATTE
Pastry Art Bakery
1512 Main St.
941-955-7545
After wandering the world, not to mention the restaurant business, for almost a decade, Pastry Art owner John Andersen came to Sarasota and rescued the coffeehouse from the brink of bankruptcy, building it into one of the area's premier java joints, where you can savor a latte and enjoy one of the shops famed confections: grande tarts, Napoleons, cannolis, custards and éclairs. Go ahead, have two.
BEST DINNER SPLURGE
Cafe L'Europe
431 St. Armand's Circle
941-388-4415
Sarasota is full of fabulous restaurants, but when you're ready for that singular splurge, it's time for Cafe L'Europe. Even the sidewalk seating is reminiscent of a meal on the Continent, which is, of course, where the restaurant draws its focus. Guests can enjoy elegant service and a robust menu. With a definite nod to his coastal locale, executive chef Keith Daum has developed quite an array of specialties, along with the traditional continental fare.
BEST DESSERT
Yoder's Restaurant
3434 Bahia Vista St.
941-955-7771
There's something about homemade pie that commands a comfort zone all of its own. Yoder's has been supplying Sarasota with perfect pies for more than 30 years. Spoon into a piece of the Amish restaurant's signature peanut butter cream pie and you'll know why this sweet made Yoder's famous.
BEST PLACE TO BUY LOCAL
Worden Farm
34900 Bermont Road
Punta Gorda
941-637-4874
Going green and eating healthy doesn't get much easier than a membership in Worden Farm. For about $30 per week, you'll get a share of the farm's harvest from December through April. Members can pick up a box of produce selected by the farmer each week at one of several satellite delivery points, including Sarasota's Downtown Market. Members also have the option of visiting the farm and picking out their own mix of veggies.
Entertainment Essentials
WHERE TO DANCE
Siesta Key drum circle
Break away from the club scene and truly get your groove on at the beach. Almost every Sunday evening, about an hour before sunset, people gather just south of the main pavilion on Siesta Key for a drum circle that often takes on a persona all its own. Women shimmy. Men twirl. A kaleidoscope of musicians keeps the beat with a percussion menagerie. Need a midweek fix of karma and rhythm? A similar circle frequently sets up at Nokomis Beach on Casey Key on Wednesday nights.
FUNKY LOCAL BUSINESS
Woman's Exchange
539 S. Orange Ave.
941-955-7859
Where else can you find everything from a fox fur to a tiki bar for sale in one place? There's nothing quite like the consignment shop run by the Woman's Exchange, with the profits used to support arts projects in Sarasota and Manatee counties. You can also donate your gently used items: That sofa you've been longing to replace may help fund a scholarship for someone pursuing a career in the arts, or help providing funding for an arts organization.
Nightlife Essentials
BEST PLACE TO LISTEN TO MUSIC
The Gator Club
1490 Main St.
941-366-5969
Steeped in history and dripping with Party Florida attitude, this downtown hot spot always draws a crowd. From its hot lineup of top bands to traditional barroom gimmicks done Sarasota style (think little black dress instead of wet T-shirts, and free drinks rather than a free for all), a night at the Gator Club is always a good time.
FREE THINGS TO DO
Towles Court Artist Colony
Just off U.S. 301 south of Main Street
On the third Friday evening of each month, get your art fix at Towles Court's free gallery walk, featuring works by dozens of artists. Glass, painting, sculptures and much more are all on display in this little slice of paradise in the heart of the city, where lush, tropical foliage frames funky Key West-colored cottages. Afterwards stop by Lavanda restaurant for an elegant dinner featuring Mediterranean-influenced cuisine.
WHERE TO MEET PEOPLE
Sarasota News & Books author talks
1341 Main St.
941-365-6332
Wander into an author's talk at Sarasota News & Books, and you're likely to encounter an eclectic crowd: devoted fans, the abundantly curious, browsers who get sucked in by the sheer energy of the moment. The guest speakers are as varied as the audience: Sara Gruen, Kim Edwards, Thomas Friedman, Gina Greenlee and semilocal phenom Kathleen Flinn have all talked shop and shared their literary tales at this downtown landmark.
Outdoor Essentials
OUTDOORSY THING TO DO
Myakka River State Park
13208 State Road 72
941-361-6511
Looking for a respite from the 'burbs? Or maybe just a cool place to go gator watching, catch a meteor shower or wander through the tree canopy? Myakka River State Park offers all that and host of other encounters with nature, from feral hogs to bald eagles. Canoeing, hiking and camping are all great ways to explore the scenic river. The park has one of the few tree canopy suspension bridges in the world, which allows visitors to climb 35 feet up into the treetops to survey flora and fauna up close and for miles around.
WHERE YOUNG COUPLES GO
Sunset stroll along the beach
Sure, it sounds like a scene from some chick flick, but what's more romantic than a sunset stroll along the beach? The sun looks like a big yellow ball as it slowly melts into the Gulf of Mexico, spreading a palette of colors across the water and sky. With 35 miles of beaches in Sarasota County, you've got plenty to choose from.
BEST VIEW OF THE CITY
Top of the John Ringling Boulevard Bridge
Park your car at Bird Key Park, and run, walk or bike to the top of the John Ringling Boulevard Bridge, linking the mainland with St. Armand's Key. Spread out below you is a panorama of downtown Sarasota, with condos, hotels and office towers sparkling in the sunlight. You can't beat the exercise or the view.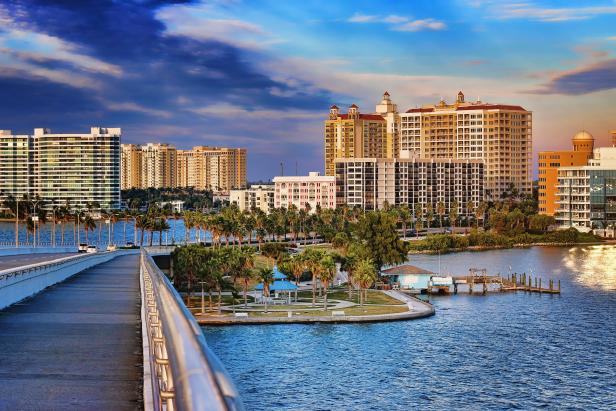 WHERE TO TAKE FIDO?
Downtown Farmers Market
Lemon Avenue and Main Street
No need to leave the pooch at home during the Downtown Farmers Market each Saturday in Sarasota. The canines are nearly as plentiful as the human customers who are there to buy farm-fresh produce, tasty bakery fare and arts and crafts items. It's the place to see and be seen for both the dogs and their doting owners.
THING TO DO WITH THE KIDS
Bayfront Park
Along U.S. 41 near John Ringling Boulevard
Take a stroll, ride a bike, explore Sarasota Bay ... and then go jump in the fountains! Bayfront Park is one the most popular destinations in the city, even though it's just a tiny finger of land jutting out into the bay. Its gateway is a gorgeous array of dolphin fountains that are just a hint of what visitors will find deeper in the park: a splash area designed especially for kids, with spray coming out of blow holes, manatees and even an alligator.
Learn More About Sarasota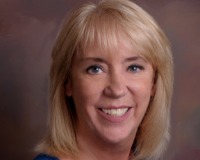 Author:
Kathy Toonder
Phone:
941-544-7270
Dated:
September 19th 2015
Views:
966
About Kathy: I enjoy walking the warm sandy beaches, swimming and watching the magnificent sunsets on Florida's...